Empowering Future Managers through Cohort Mentoring
***BEFORE YOU REGISTER FOR THIS WEBINAR PLEASE REVIEW IMPORTANT REGISTRATION INFORMATION BELOW***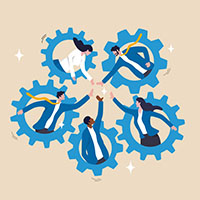 Since before the pandemic, San Mateo County Libraries in California struggled to retain top performing staff and fill key management roles internally. Promotional candidates felt they lacked the skills to make the jump to manager and didn't know how to obtain them. Meanwhile, existing managers were less concerned about skillsets and more concerned with candidates' ability to navigate the library system's unique organizational culture. Mentorship is a proven way to help staff gain perspective, practical skills, and second-hand experience, but can be difficult to manage with limited time and resources. That's why San Mateo County Libraries developed a program that brings the best of all worlds. Learn how cohort mentoring addresses skills that are hard to gain on the job and is an investment in staff growth that positively impacts an organization's equity goals, long-term sustainability, and success.
Learning Outcomes
At the conclusion of this webinar, participants will be able to:
Recognize critical issues regarding staff retention and succession planning;
Identify ways a mentorship program can help their organization; and
Adapt a cohort-based program that fits their organization's needs.
Who Should Attend
This webinar is intended for public library supervisors, managers, and directors; human resources staff; and anyone with an interest in staff development, retention, and succession planning.
Panelists
Danae Ramirez is a deputy director at San Mateo County Libraries overseeing administrative services including human resources, finance, information technology, and facilities. During her seven years with San Mateo County Libraries, three of those have been spent in the role of deputy director. Danae's extensive experience in policy, human resources, and finance provided an excellent foundation for her work with San Mateo County Libraries. Danae is currently leading the library's efforts to build four new makerspaces and scale up makerspace programming. She holds a master's degree in public administration from San Diego State University and a bachelor's degree in communication from UC San Diego. Danae's previous professional experience includes working for the County of San Diego for over ten years in various roles including as a policy advisor for a county supervisor, a policy analyst for the Office of Strategy and Intergovernmental Affairs, and as an analyst in the Human Resources Department.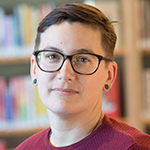 Cary Mossing (she/they) is a community library manager at San Mateo County Libraries, Brisbane Library. She has worked at San Mateo County Libraries in multiple locations since 2019. Cary was part of the first graduating LEAD cohort for supervisors and accepted a promotion to her current position while participating in the program. She is a lead mental health first aid trainer, ensuring that all staff in the San Mateo community libraries are trained to respond compassionately and appropriately to someone experiencing a mental health crisis. Cary received her undergraduate degree at the University of Mississippi and her master of science in information from the University of Michigan. Her previous professional experience in San Antonio, TX, included work as a teen services librarian and an assistant branch manager.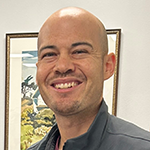 David Vargas is an adult services librarian at San Mateo County Libraries, Belmont Library, and has been providing wonderful customer service at San Mateo County Libraries for over seven years. David was part of the first graduating LEAD cohort for non-supervising staff and is already putting his leadership skills into practice. David is currently hosting artificial intelligence workshops at community libraries throughout our system. In addition, David is developing a maker-in-residence program to activate STEAM based experiential learning through programming in our makerspaces. David holds a master's degree in library and information science from San Jose State University, and a bachelor's degree in sociology from San Diego State University.
Important Registration Information
Log into or create your ALA eLearning account
An ALA eLearning account is required to register. Don't have an account? Create one for free by going to the "Log in" menu located at the top right corner of your screen. No membership is required to create the account.
Redeem your signup code to complete your registration
Once you've registered for this webinar, a signup code will be added to your ALA eLearning account and emailed to you. Find the signup code on your signup code page, then redeem it on your account's dashboard to complete your enrollment in this live webinar.
Review the ALA eLearning FAQ if you need more information.
Accommodations
This live webinar will be CART captioned in English (United States). Zoom desktop client or mobile app is required to access captions.
Attendees using screen readers are advised to turn off speech prior to joining the Zoom event because PLA webinars make extensive use of chat functionality. Attendees who find chat distracting may wish to disable it in the Zoom event, as PLA moderators will verbally highlight important topics raised in chat and chat transcripts will be provided post-webinar.
If you have a physical or communication need that may affect your participation in this webinar, please contact us at plawebinars@ala.org or 800-545-2433 ext. 5PLA (5752) at least two weeks prior to the webinar. Without prior notification of need, we may not be able to provide appropriate accommodations for the live event.
Archived Recording
If you're unable to attend this live webinar, an archived recording will be available to all registrants typically within 1–3 business of the live event. Access to closed captions will be provided in the webinar recording.
Tech Requirements
This webinar will be presented using the Zoom platform. Please review Zoom technical requirements and support information, and test your connection.
Once you've joined the webinar, there are two ways to connect your audio: via computer (VoIP) or via telephone. No microphone is required. PLA works with its webinar platform provider to assure the highest quality audio is being delivered to attendees. However, variables over which PLA has no control—such as the speed of your Internet connection or traffic on your local network—can affect the end quality of the webinar audio delivered by your computer. Each webinar's audio is also available by telephone via a toll number, so we recommend you have access to a long-distance enabled phone as a backup in case you experience audio issues with VoIP. If you do encounter any problems during the webinar, you will receive a link to its archived recording within a week of the live event and can review anything you missed.
Contact
This webinar is presented by the Public Library Association (PLA), a division of the American Library Association (ALA).
Questions about this webinar? Please contact us at plawebinars@ala.org or 800-545-2433 ext. 5PLA (5752).