Disability Inclusion in Library Services
***BEFORE YOU REGISTER FOR THIS WEBINAR PLEASE REVIEW IMPORTANT REGISTRATION INFORMATION BELOW***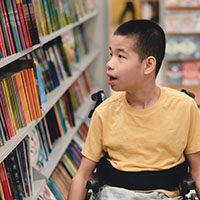 To best serve patrons with disabilities, we need to understand their community, culture, and needs. In this webinar, we will explore disability experiences, how to provide safe and inclusive spaces, and how to serve patrons through programming and collections. Although the examples will be youth focused, they can be adapted for any age.

Learning Outcomes
At the conclusion of this webinar, participants will be able to:
Evaluate books about disabled characters for good or harmful representation;
Understand how to structure programs to set patrons up for success; and
Dispel at least two harmful myths that keep people with disabilities out of community spaces.
Who Should Attend
This webinar is intended for all public library staff.

Panelists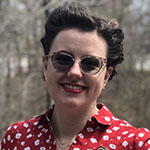 Shelley Harris is a neurodivergent children's librarian in Oak Park, IL, with a passion for early literacy, serving and celebrating the disability community, and exploring technology. She has a younger brother with a rare genetic syndrome who has used augmentative communication for thirty years, which inspired her to earn a Bachelors in Speech and Hearing Science from the University of Illinois Urbana-Champaign. She previously worked as a one-to-one paraprofessional with autistic children. Everything she has learned from these experiences is funneled into creating inclusive and engaging library services and spaces for kids and tweens with disabilities, and helping families connect with services in the community. She can often be found practicing storytime songs with her black lab, Bingo.
Important Registration Information
Log into or create your ALA eLearning account
An ALA eLearning account is required to register. Don't have an account? Create one for free by going to the "Log in" menu located at the top right corner of your screen. No membership is required to create the account.
Redeem your signup code to complete your registration
Once you've registered for this webinar, a signup code will be added to your ALA eLearning account and emailed to you. Find the signup code on your signup code page, then redeem it on your account's dashboard to complete your enrollment in this live webinar.
Review the ALA eLearning FAQ if you need more information.
Accommodations
This live webinar will be CART captioned in English (United States). Zoom desktop client or mobile app is required to access captions.
Attendees using screen readers are advised to turn off speech prior to joining the Zoom event because PLA webinars make extensive use of chat functionality. Attendees who find chat distracting may wish to disable it in the Zoom event, as PLA moderators will verbally highlight important topics raised in chat and chat transcripts will be provided post-webinar.
If you have a physical or communication need that may affect your participation in this webinar, please contact us at plawebinars@ala.org or 800-545-2433 ext. 5PLA (5752) at least two weeks prior to the webinar. Without prior notification of need, we may not be able to provide appropriate accommodations for the live event.
Archived Recording
If you're unable to attend this live webinar, an archived recording will be available to all registrants typically within 1–3 business of the live event. Access to closed captions will be provided in the webinar recording.
Tech Requirements
This webinar will be presented using the Zoom platform. Please review Zoom technical requirements and support information, and test your connection.
Once you've joined the webinar, there are two ways to connect your audio: via computer (VoIP) or via telephone. No microphone is required. PLA works with its webinar platform provider to assure the highest quality audio is being delivered to attendees. However, variables over which PLA has no control—such as the speed of your Internet connection or traffic on your local network—can affect the end quality of the webinar audio delivered by your computer. Each webinar's audio is also available by telephone via a toll number, so we recommend you have access to a long-distance enabled phone as a backup in case you experience audio issues with VoIP. If you do encounter any problems during the webinar, you will receive a link to its archived recording within a week of the live event and can review anything you missed.
Contact
This webinar is presented by the Public Library Association (PLA), a division of the American Library Association (ALA).
Questions about this webinar? Please contact us at plawebinars@ala.org or 800-545-2433 ext. 5PLA (5752).