Community Powered Adult Learning
***BEFORE YOU REGISTER FOR THIS ON-DEMAND WEBINAR PLEASE REVIEW IMPORTANT REGISTRATION INFORMATION BELOW***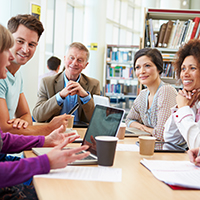 Despite demand and an eagerness to learn from engaged community members, we know that adult learning in the library doesn't just "happen." Learning circles are a great way to engage peer-to-peer adult learning, but many libraries feel that it takes too much staff time to facilitate.
Since 2019, Carnegie Library of Pittsburgh (CLP) has worked with Peer 2 Peer University (P2PU) to offer its We Learn program, which utilizes learning circles as a format for demand-driven adult education. By taking courses together as a group, learners often feel more motivated to work through the material, deepen their learning through discussion, and develop relationships with neighbors who have similar interests. To lower the burden on staff, CLP and P2PU streamlined learning circles with the library's volunteer program, allowing volunteers to convene small groups of learners around topics of mutual interest, from philosophy to the Korean language to Python.
The We Learn model of adult learning allows you to leverage assets that are freely available in your community to expand your program offerings. In this on-demand webinar, we outline the free P2PU and We Learn resources that you can utilize to begin your own volunteer-led learning circles.
Originally presented November 16, 2022.
Learning Outcomes
At the conclusion of this on-demand webinar, participants will be able to:
Leverage free online resources and community capacity to convene adult learning in their community

;

Apply a variety of new strategies to increase volunteer engagement at their library

; and

Critically consider the affordances and drawbacks of relying on online learning resources

.
Who Should Attend
This on-demand webinar is intended for library directors and administrators, adult services librarians who do programming in public libraries, and volunteer coordinators.
Panelists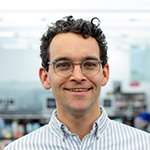 Dan Hensley is the coordinator of adult learning at Carnegie Library of Pittsburgh (PA). In this role, he works with colleagues across nineteen locations to develop programs and services to support digital equity and adult learning in Pittsburgh. Prior to joining CLP in 2012, Dan worked in public and academic libraries in Pittsburgh and in San Francisco, CA.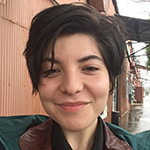 Lydian Brambila (they/them) is a librarian committed to building community on- and offline and to making sure that learners and facilitators get their needs met. Formerly an academic librarian at the University of Georgia, Lydian now serves as community coordinator at Peer 2 Peer University. After work, you'll find them playing shows and making zines in Athens, GA.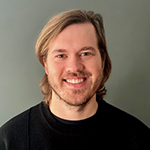 Grif Peterson joined Peer 2 Peer University in 2015 to help start the learning circle program. Since then, his role has grown with the project, and he does his best to make sure that people around the world have the opportunity to keep learning things they care about for free. A longtime resident of New England, he now lives in Phoenix, AZ.
Important Registration Information
Log into or create your ALA eLearning account
An ALA eLearning account is required to register. Don't have an account? Create one for free by going to the "Log in" menu located at the top right corner of your screen. No membership is required to create the account.
Redeem your signup code to complete your registration
Once you've registered for this on-demand webinar, a signup code will be added to your ALA eLearning account and emailed to you. Find the signup code on your signup code page, then redeem it on your account's dashboard to complete your enrollment in this on-demand webinar.
Review the ALA eLearning FAQ if you need more information.
Accommodations
This on-demand webinar is closed captioned in English (United States).
If you have a physical or communication need that may affect your access to this on-demand webinar, please contact us at plawebinars@ala.org or 800-545-2433 ext. 5PLA (5752) prior to registering so we can attempt to provide appropriate accommodations.
Tech Requirements
To play this on-demand webinar you should use a browser with native HTML5 support. Please use the most up-to-date version available of Chrome, Safari, Firefox, Opera, or Edge. A fast Internet connection and computer is recommended.
Contact
This webinar is presented by the Public Library Association (PLA), a division of the American Library Association (ALA).
If you have questions or problems accessing a recording, send a message to plawebinars@ala.org or call 800-545-2433 ext. 5PLA (5752).