Social Emotional Learning in the Library
A free PLA webinar series
***BEFORE YOU REGISTER FOR THIS FREE WEBINAR SERIES PLEASE REVIEW IMPORTANT REGISTRATION INFORMATION BELOW***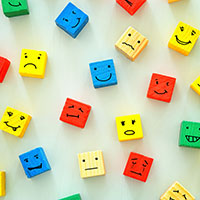 Libraries respond to the needs of our communities, and communities all over the world have experienced an elevated level of trauma and stress over the past few years. As we continue to serve the public in these challenging times, library workers must adapt, pivoting to incorporate Social Emotional Learning (SEL) into the work we do with families every day. In many cases, we are already using SEL in our work. This free webinar series will cover key SEL concepts and how to integrate them into library programs and activities. Book lists and other resources will be provided, and each session will include a calming mindfulness exercise for attendees.
PLA members make it possible for us to provide continuing education opportunities like this webinar at no cost. We thank our members for their continuous dedication to the advancement of the public library field and our association.
Learning Outcomes
At the conclusion of this series of four webinars, participants will be able to:
Know the fundamentals of SEL and their applications in libraries;



Understand the research of SEL and how to relay its personal applications and benefits to funders, supervisors, and community stakeholders;
Appreciate the cultural origins of the discussed practices and how SEL provides a respectful way to connect to these practices;
Know how to incorporate mindfulness techniques into their existing programming; and
Implement at least one SEL program at their library.
Who Should Attend
This free webinar series is intended for librarians and other library workers who work with children, teens, parents, or families; programming librarians; administrators and supervisors; and anyone who wants to improve their own emotional wellness.
Webinars
Webinar #1
Fundamentals of Social Emotional Learning
Tuesday, October 11, 2022
RECORDING AVAILABLE
This webinar will give attendees the vocabulary to talk about SEL—with supervisors, administrators, funders, parents, colleagues, and community partners—and hone their skills for guiding patrons. Attendees will learn about the research and science behind this evidence-based approach to caring for their communities' mental health and wellness.
Dr. Zachary Stier is the director of children's services at Ericson Public Library in Boone, Iowa, where he has revolutionized services for children and families through the expansion of early literacy programming, the redesign of space to emphasize play, and family engagement initiatives. He serves on numerous state and national boards, including co-chairing PLA's Committee on Family Engagement, and was recently selected to be part of the Fred Rogers Institute program, The Educators Neighborhood.
---
Webinar #2
Practical Applications of Social Emotional Learning in the Library
Tuesday, November 8, 2022
1:00–2:00 PM Central
This webinar will move beyond the fundamentals of SEL to provide attendees with practical applications for incorporating it into library programming. Presenters will introduce programs like Yoga Storytime, Nourishing Literacy, and mindfulness activities, which teach participants how to manage emotions and self-soothe.
Becky Shaknovich is an administrative librarian with the Free Library of Philadelphia (PA), supervising the West Philadelphia Libraries. The majority of her career has been in managing library services to children. As an administrator, Becky strives to advocate for families, both patron and staff. She is passionate about yoga and mindfulness, and sharing these key skills with children and their families. Becky is a co-chair of PLA's Committee on Family Engagement.
Lisa Mulvenna is head of children's and teen services at Clinton-Macomb Public Library in Clinton Township, MI. She has over 20 years of presenting highly energetic story time and early literacy programming. As a manager, Lisa now works with staff to develop new services, programs, and outreach for ages 0-18 and their families. She was the recipient of the 2012 Pletz Award for Excellence in Service to Youth, given by the Michigan Library Association.

---
Webinar #3
Happy and Calm: Kids Yoga in the Library with Author Bari Koral
Tuesday, December 13, 2022
1:00–2:00 PM Central
In this webinar, recording artist and picture book author Bari Koral will discuss opportunities, benefits, and strategies for introducing yoga into library programming for kids.
Bari Koral
is a children's recording artist, internationally acclaimed kids yogi, mindfulness expert, and picture book author
.
---
Webinar #4
Recharge and Refresh with Wellness Educator Shayna Marmar
Tuesday, January 10, 2023
1:00–2:00 PM Central
This webinar will complete the Social Emotional Learning series and focus on personal applications and benefits of SEL. Attendees will take away strategies and techniques for improving their own emotional wellness.
Shayna Marmar
is a longtime educator in unconventional learning spaces and the co-founder of Nourishing Literacy, the Free Library of Philadelphia's youth-centered, culinary-based wellness program. Additionally, Shayna is a reiki practitioner, is studying to become a certified 200-hour yoga teacher, and is in the process of completing Rutgers' Social-Emotional Learning for Direct Instruction certification program
.

Important Registration Information
An ALA eLearning account is required to register for this free webinar series. Don't have an account? Create one for free by going to the "Log in" menu located at the top right corner of your screen. No membership is required to create the account.
Accommodations
Each live webinar will be CART captioned in English (United States). Zoom desktop client or mobile app is required to access captions.
Attendees using screen readers are advised to turn off speech prior to joining the Zoom event because PLA webinars make extensive use of chat functionality. Attendees who find chat distracting may wish to disable it in the Zoom event, as PLA moderators will verbally highlight important topics raised in chat and chat transcripts will be provided post-webinar.
If you have a physical or communication need that may affect your participation in these webinars, please contact us at plawebinars@ala.org or 800-545-2433 ext. 5PLA (5752) at least two weeks prior to the webinar. Without prior notification of need, we may not be able to provide appropriate accommodations for the live event.
Archived Recordings
If you're unable to attend any of the live webinars in this series, an archived recording of each will be available to all registrants typically within 1–3 business of the live event. Access to closed captions will be provided in each webinar recording.
Tech Requirements
These webinars will be presented using the Zoom platform. Please review Zoom technical requirements and support information, and test your connection.
Once you've joined the webinar, there are two ways to connect your audio: via computer (VoIP) or via telephone. No microphone is required. PLA works with its webinar platform provider to assure the highest quality audio is being delivered to attendees. However, variables over which PLA has no control—such as the speed of your Internet connection or traffic on your local network—can affect the end quality of the webinar audio delivered by your computer. Each webinar's audio is also available by telephone via a toll number, so we recommend you have access to a long-distance enabled phone as a backup in case you experience audio issues with VoIP. If you do encounter any problems during the webinar, you will receive a link to its archived recording within a week of the live event and can review anything you missed.
Contact
This webinar series is presented by the Public Library Association (PLA), a division of the American Library Association (ALA).
PLA members make it possible for us to provide continuing education opportunities like this webinar at no cost. We thank our members for their continuous dedication to the advancement of the public library field and our association.
Questions about this webinar? Please contact us at plawebinars@ala.org or 800-545-2433 ext. 5PLA (5752).