Meeting the Needs of Our Disability Community: Building Inclusive Spaces
***BEFORE YOU REGISTER FOR THIS ON-DEMAND WEBINAR PLEASE REVIEW IMPORTANT REGISTRATION INFORMATION BELOW***
A PLA 2022 Virtual Conference On-Demand Session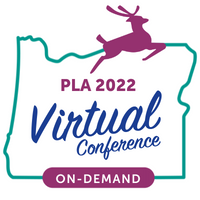 In this workshop, the presenters will discuss practical and impactful ways in which to improve library spaces. The disability community is unfortunately often overlooked when considering public library spaces. By building more inclusive, diverse, and welcoming spaces, public libraries can meet the needs of all members of their community. This proposal is based on the results from an Institute of Museum and Library Services (IMLS) grant.
Originally presented as part of the PLA 2022 Virtual Conference on March 23, 2022.
Learning Outcomes
At the conclusion of this on-demand webinar, participants will be able to:
Identify opportunities for including patrons with disabilities in public library spaces;
Implement changes in their public library spaces to better meet the needs of patrons with disabilities; and
Create more inclusive makerspaces and makerspace activities for all patrons.
Panelists
Dr. Abigail Phillips is an assistant professor in the School of Information Studies at the University of Wisconsin-Milwaukee. Her research interests include youth, social media, cyberbullying, empathy, librarianship, libraries, making, neurodiversity, advocacy, and mental health. She received my PhD in Information Science from the School of Information at Florida State University in the Spring 2016. Before I began the PhD program, she worked as public librarian at a rural library system in Georgia.
Dr. Amelia Anderson is an assistant professor of Library and Information Studies at Old Dominion University. A former public librarian, her research focuses on meeting the needs of neurodivergent library patrons and employees. Her book, Library Programming for Autistic Children and Teens, was recently published by ALA Editions, and she is the project director of an IMLS funded grant that explores accessibility in public library makerspaces.
Important Registration Information
Log into or create your ALA eLearning account
An ALA eLearning account is required to register. Don't have an account? Create one for free by going to the "Log in" menu located at the top right corner of your screen. No membership is required to create the account.
Redeem your signup code to complete your registration
Once you've registered for this on-demand webinar, a signup code will be added to your ALA eLearning account and emailed to you. Find the signup code on your signup code page, then redeem it on your account's dashboard to complete your enrollment in this on-demand webinar.
Review the ALA eLearning FAQ if you need more information.
Accommodations
This on-demand webinar is closed captioned in English (United States).
If you have a physical or communication need that may affect your access to this on-demand webinar, please contact us at plawebinars@ala.org or 800-545-2433 ext. 5PLA (5752) prior to registering so we can attempt to provide appropriate accommodations.
Tech Requirements
To play this on-demand webinar you should use a browser with native HTML5 support. Please use the most up-to-date version available of Chrome, Safari, Firefox, Opera, or Edge. A fast Internet connection and computer is recommended.
Contact
This webinar is presented by the Public Library Association (PLA), a division of the American Library Association (ALA).
If you have questions or problems accessing a recording, send a message to plawebinars@ala.org or call 800-545-2433 ext. 5PLA (5752).