Using a Library Podcast to Build Empathy in the Community
***BEFORE YOU REGISTER FOR THIS ON-DEMAND WEBINAR PLEASE REVIEW IMPORTANT REGISTRATION INFORMATION BELOW***
A PLA 2022 Virtual Conference On-Demand Session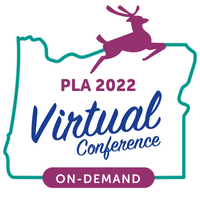 Don't know how to introduce a podcast? The Downers Grove Public Library's "Cover to Cover" models how a podcast can humanize staff and services to your community. We'll talk about how DGPL's podcast has grown from discussing services to larger conversations around hot topics such as EDI initiatives. Find out how podcasts can be an effective marketing tool for creating community buy-in and a way to start difficult conversations in and out of the library.
Originally presented as part of the PLA 2022 Virtual Conference on March 25, 2022.
Learning Outcomes
At the conclusion of this on-demand webinar, participants will be able to:
Develop ideas for how a podcast can be an outreach tool for their library, no matter the size;
Utilize a podcast to create relationships with the community through humanizing the staff and services; and
Create a space to introduce hot topics of interest to the community, such as EDI initiatives, through approachable, open, and enjoyable dialogue.
Panelists
Lauren Gonzalez is the IT Supervisor at the Downers Grove Public Library. Before joining DGPL, Lauren worked in operations, and corporate training.
Ed Bromiel, Media Lab Coordinator with the Downers Grove Public Library.
Cindy Khatri is the Public Relations Manager at the Downers Grove Public Library. Cindy previously worked in museums, higher education, and nonprofits before joining the library community in 2018. She sits on the DGPL Equity Advisory Team, leads the BIPOC affinity group, and is heavily involved in the library's EDI work. In her free time, she enjoys spending time with her family, eating, singing show tunes, and dancing hula.
Important Registration Information
Log into or create your ALA eLearning account
An ALA eLearning account is required to register. Don't have an account? Create one for free by going to the "Log in" menu located at the top right corner of your screen. No membership is required to create the account.
Redeem your signup code to complete your registration
Once you've registered for this on-demand webinar, a signup code will be added to your ALA eLearning account and emailed to you. Find the signup code on your signup code page, then redeem it on your account's dashboard to complete your enrollment in this on-demand webinar.
Review the ALA eLearning FAQ if you need more information.
Accommodations
This on-demand webinar is closed captioned in English (United States).
If you have a physical or communication need that may affect your access to this on-demand webinar, please contact us at plawebinars@ala.org or 800-545-2433 ext. 5PLA (5752) prior to registering so we can attempt to provide appropriate accommodations.
Tech Requirements
To play this on-demand webinar you should use a browser with native HTML5 support. Please use the most up-to-date version available of Chrome, Safari, Firefox, Opera, or Edge. A fast Internet connection and computer is recommended.
Contact
This webinar is presented by the Public Library Association (PLA), a division of the American Library Association (ALA).
If you have questions or problems accessing a recording, send a message to plawebinars@ala.org or call 800-545-2433 ext. 5PLA (5752).