Building Community Through BIPOC Library Worker Affinity Groups
***BEFORE YOU REGISTER FOR THIS ON-DEMAND WEBINAR PLEASE REVIEW IMPORTANT REGISTRATION INFORMATION BELOW***
A PLA 2022 Virtual Conference On-Demand Session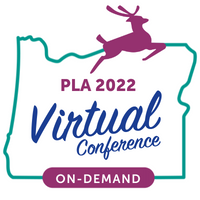 Are you one of a few BIPOC (Black, Indigenous, People of Color) library workers in your institution? Build your network to connect with other BIPOC library workers and share your experiences in a safe, open space. We'll teach best practices to create and maintain a BIPOC library workers' affinity group that empowers members through community and leadership development via recruitment and methods of engagement during meetings. This session is for people who identify as BIPOC.
Originally presented as part of the PLA 2022 Virtual Conference on March 25, 2022.
Learning Outcomes
At the conclusion of this on-demand webinar, participants will be able to:
Explain the importance of BIPOC affinity groups;
Identify opportunities and strategies to establish, promote, and recruit members for an affinity group; and
Understand how to advocate for their participation.
Panelists
Sophie Kenney is the Assistant Director of the Youth Department at the Glen Ellyn Public Library. She believes anti-bias education begins at birth and specializes in diverse and inclusive programming and outreach for youth. Sophie is the co-chair of the ALSC Equity, Diversity and Inclusion Task Force and founder and co-leader of the RAILS BIPOC Library Workers networking group. Sophie identifies as Cambodian American.
Heidi Estrada is a Digital and Maker Services Librarian at the Indian Trails Public Library. She enjoys helping others turn dreams into reality through a variety of creative mediums with an emphasis on accessibility and inclusion in the maker community. Heidi currently serves on the APALA Membership Committee and co-leads the RAILS BIPOC Library Workers networking group. Heidi identifies as multiracial Korean American.
Important Registration Information
Log into or create your ALA eLearning account
An ALA eLearning account is required to register. Don't have an account? Create one for free by going to the "Log in" menu located at the top right corner of your screen. No membership is required to create the account.
Redeem your signup code to complete your registration
Once you've registered for this on-demand webinar, a signup code will be added to your ALA eLearning account and emailed to you. Find the signup code on your signup code page, then redeem it on your account's dashboard to complete your enrollment in this on-demand webinar.
Review the ALA eLearning FAQ if you need more information.
Accommodations
This on-demand webinar is closed captioned in English (United States).
If you have a physical or communication need that may affect your access to this on-demand webinar, please contact us at plawebinars@ala.org or 800-545-2433 ext. 5PLA (5752) prior to registering so we can attempt to provide appropriate accommodations.
Tech Requirements
To play this on-demand webinar you should use a browser with native HTML5 support. Please use the most up-to-date version available of Chrome, Safari, Firefox, Opera, or Edge. A fast Internet connection and computer is recommended.
Contact
This webinar is presented by the Public Library Association (PLA), a division of the American Library Association (ALA).
If you have questions or problems accessing a recording, send a message to plawebinars@ala.org or call 800-545-2433 ext. 5PLA (5752).