Creating Meaningful Connections within a Hybrid Environment
***BEFORE YOU REGISTER FOR THIS ON-DEMAND WEBINAR PLEASE REVIEW IMPORTANT REGISTRATION INFORMATION BELOW***
A PLA 2022 Virtual Conference On-Demand Session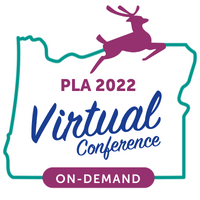 Library staff quickly pivoted to connecting online with colleagues and patrons in response to COVID-19, and this experience came with both winning and challenging moments. The lessons learned in this transition to virtual meetings and programs can be applied to a hybrid approach to running meetings, creating programs, and onboarding staff. Learn about adult learning theory concepts and tools, and discover resources that can be used to foster optimal engagement in a hybrid environment.
Originally presented as part of the PLA 2022 Virtual Conference on March 25, 2022.
Learning Outcomes
At the conclusion of this on-demand webinar, participants will be able to:
Identify tools that can bridge virtual and in-person events;
Apply adult learning theory concepts that will assist adults in learning and synthesizing information; and
Recommend practices that will lead to greater connection with staff and patrons at hybrid events.
Panelists
Linda Hofschire has more than 25 years of experience conducting social science research and evaluation and providing training in-person and online. She directs the Research Institute for Public Libraries (RIPL), an initiative to provide data and evaluation training for library staff, and is the Training Coordinator for Infopeople, the national education and training branch of the Califa Group.
Cassandra Collucci,Training Manager with Somerset County Library System.
Important Registration Information

Log into or create your ALA eLearning account
An ALA eLearning account is required to register. Don't have an account? Create one for free by going to the "Log in" menu located at the top right corner of your screen. No membership is required to create the account.
Redeem your signup code to complete your registration
Once you've registered for this on-demand webinar, a signup code will be added to your ALA eLearning account and emailed to you. Find the signup code on your signup code page, then redeem it on your account's dashboard to complete your enrollment in this on-demand webinar.
Review the ALA eLearning FAQ if you need more information.
Accommodations
This on-demand webinar is closed captioned in English (United States).
If you have a physical or communication need that may affect your access to this on-demand webinar, please contact us at plawebinars@ala.org or 800-545-2433 ext. 5PLA (5752) prior to registering so we can attempt to provide appropriate accommodations.
Tech Requirements
To play this on-demand webinar you should use a browser with native HTML5 support. Please use the most up-to-date version available of Chrome, Safari, Firefox, Opera, or Edge. A fast Internet connection and computer is recommended.
Contact
This webinar is presented by the Public Library Association (PLA), a division of the American Library Association (ALA).
If you have questions or problems accessing a recording, send a message to plawebinars@ala.org or call 800-545-2433 ext. 5PLA (5752).