Welcoming Everyone: Creating Equitable and Inclusive Library Policies
***BEFORE YOU REGISTER FOR THIS ON-DEMAND WEBINAR PLEASE REVIEW IMPORTANT REGISTRATION INFORMATION BELOW***
A PLA 2022 Virtual Conference On-Demand Session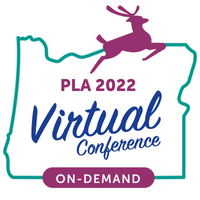 Public libraries must constantly adopt and manage policies. Crafting legal policies means wrestling with multiple considerations. Should considerations include the impact on specific communities such as immigrants, BIPOC, LGBTQ+, the elderly, and the disabled? How should the needs of these populations determine amendments or shifts in policy? This session looks at library policies through the lens of minorities, particularly the BIPOC community and provides drafting tips and suggestions for libraries striving to be more inclusive.
Originally presented as part of the PLA 2022 Virtual Conference on March 25, 2022.
Learning Outcomes
At the conclusion of this on-demand webinar, participants will be able to:
Identify inclusivity and equity "red flags" that may exist in their current policies;
Define stakeholders in their library who can offer insight into impacted populations in their communities and
Describe components of equitable and inclusive policies.
Panelists
Tara Michener, MA, LPC, NCC, RYT 200, is a mental health professional who specializes in relational aggression and racial trauma and she is a seasoned library board trustee and TEDx Speaker.
Clare Membiela, Library Law Consultant with the Library of Michigan.
Important Registration Information
Log into or create your ALA eLearning account
An ALA eLearning account is required to register. Don't have an account? Create one for free by going to the "Log in" menu located at the top right corner of your screen. No membership is required to create the account.
Redeem your signup code to complete your registration
Once you've registered for this on-demand webinar, a signup code will be added to your ALA eLearning account and emailed to you. Find the signup code on your signup code page, then redeem it on your account's dashboard to complete your enrollment in this on-demand webinar.
Review the ALA eLearning FAQ if you need more information.
Accommodations
This on-demand webinar is closed captioned in English (United States).
If you have a physical or communication need that may affect your access to this on-demand webinar, please contact us at plawebinars@ala.org or 800-545-2433 ext. 5PLA (5752) prior to registering so we can attempt to provide appropriate accommodations.
Tech Requirements
To play this on-demand webinar you should use a browser with native HTML5 support. Please use the most up-to-date version available of Chrome, Safari, Firefox, Opera, or Edge. A fast Internet connection and computer is recommended.
Contact
This webinar is presented by the Public Library Association (PLA), a division of the American Library Association (ALA).
If you have questions or problems accessing a recording, send a message to plawebinars@ala.org or call 800-545-2433 ext. 5PLA (5752).