Rainbow Connections: Celebrating LGBTQ+ Kids and Allies in Your Community and Beyond
***BEFORE YOU REGISTER FOR THIS ON-DEMAND WEBINAR PLEASE REVIEW IMPORTANT REGISTRATION INFORMATION BELOW***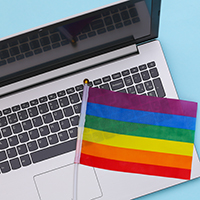 Is your library looking to start an LGBTQ+ youth program? During this free on-demand webinar you'll learn how the Abington Township Public Library in Pennsylvania launched their wildly successful program in the fall of 2021. Rainbow Connections is a virtual program, led by a team that includes a children's librarian and a community parent, that convenes LGBTQ+ children, allies, and their families from across the country. Learn how to start your own library group to help support and affirm LGBTQ+ kids and their families as well as educate and build community with allies.
Originally presented September 28, 2022.
Learning Outcomes
At the conclusion of this on-demand webinar, participants will be able to:
Create their own LGBTQ+ group with an LGBTQ+ co-host, and promote through social media and networking with other local organizations, schools, and groups;




Engage with supportive and non-supportive community members using tips based on Abington Township Public Library's own experiences; and




Build a directory of LGBTQ+-friendly community groups and advocates to help foster an environment in which friendships among participants will flourish.
Who Should Attend
This on-demand webinar is intended for children's, youth services, and YA librarians, as well as library directors.
Panelists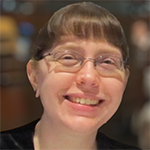 Jessica Olzak has worked in public libraries for over twenty years. She has been a children's librarian at the Abington Township Public Library since 2013 where she has planned and presented innovative, intentional, and inclusive programs for young library patrons and their families from birth to age twelve. Jessica lives in Bucks County, PA with her two children and two cats.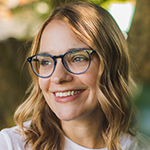 Shannon Collins has been aiming to capture joy as resistance for twelve years as the owner of Shannon Collins Photography. They connect clients with affirming vendors and advocate for safer, more diverse, inclusive, and accessible industry standards. In the past year, Shannon came into themself publicly as nonbinary, queer, Autistic, and disabled.
In 2021, Shannon founded Youthphoria, a project dedicated to celebrating and photographing trans, nonbinary, and gender expansive youth in the Philadelphia area at no cost. They volunteered as a crisis counselor weekly for The Trevor Project for six years and also donate their time as the co-founder and co-host of Rainbow Connections.
Shannon lives in the Philadelphia suburbs with their partner and two children.
Important Registration Information
An ALA eLearning account is required to register for this free on-demand webinar. Don't have an account? Create one for free by going to the "Log in" menu located at the top right corner of your screen. No membership is required to create the account.
Accommodations
This on-demand webinar is closed captioned in English (United States).
If you have a physical or communication need that may affect your access to this on-demand webinar, please contact us at plawebinars@ala.org or 800-545-2433 ext. 5PLA (5752) prior to registering so we can attempt to provide appropriate accommodations.
Tech Requirements
To play this on-demand webinar you should use a browser with native HTML5 support. Please use the most up-to-date version available of Chrome, Safari, Firefox, Opera, or Edge. A fast Internet connection and computer is recommended.
Contact
This webinar is presented by the Public Library Association (PLA), a division of the American Library Association (ALA).
PLA members make it possible for us to provide continuing education opportunities like this webinar at no cost. We thank our members for their continuous dedication to the advancement of the public library field and our association.
If you have questions or problems accessing a recording, send a message to plawebinars@ala.org or call 800-545-2433 ext. 5PLA (5752).