Scalable Web Accessibility Training for Library Staff in Every Position
***BEFORE YOU REGISTER FOR THIS ON-DEMAND WEBINAR PLEASE REVIEW IMPORTANT REGISTRATION INFORMATION BELOW***
A PLA 2022 Virtual Conference On-Demand Session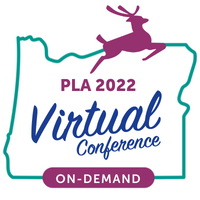 The presenters speak directly to the training, policies, and library culture supports needed to implement and maintain an accessible digital footprint. Compare your library to 200 others on key accessibility success indicators. Learn how to scale accessibility training whether your library is small and/or rural, or a much larger institution. We'll also discuss the skills and supports needed by managers, tech staff, and those on the front lines.
Originally presented as part of the PLA 2022 Virtual Conference on March 23, 2022.
Learning Outcomes
At the conclusion of this on-demand webinar, participants will be able to:
Identify the supports that library managers and staff need in order to implement or maintain an accessible web presence.
Apply a holistic approach to training, policies, and library culture supports needed for an accessible digital footprint; and
Evaluate where their library stands on a number of accessibility success indicators.
Panelists
Sonya Norris has spent 16 years as a consultant delivering What's Next to library staff in Michigan and around the country. She is a trainer and instructional designer whose articles have appeared in Computers in Libraries, Library Journal, and for Gale/Cengage. Sonya is a regular presenter for the American Library Association and she developed the Plum Librarian consulting firm to help libraries get to What's Next for them..
Scott Norris is the Manager of the Braille and Talking Book Library in Lansing, Michigan. Prior to that position, he served as the state's Adaptive Technology Coordinator. Scott evaluated the accessibility of digital products being considered for statewide adoption including public facing websites, performance management systems, and time and expense reporting. He's also called in on State of Michigan app developments including COVID symptom tracking.
Important Registration Information
Log into or create your ALA eLearning account
An ALA eLearning account is required to register. Don't have an account? Create one for free by going to the "Log in" menu located at the top right corner of your screen. No membership is required to create the account.
Redeem your signup code to complete your registration
Once you've registered for this on-demand webinar, a signup code will be added to your ALA eLearning account and emailed to you. Find the signup code on your signup code page, then redeem it on your account's dashboard to complete your enrollment in this on-demand webinar.
Review the ALA eLearning FAQ if you need more information.
Accommodations
This on-demand webinar is closed captioned in English (United States).
If you have a physical or communication need that may affect your access to this on-demand webinar, please contact us at plawebinars@ala.org or 800-545-2433 ext. 5PLA (5752) prior to registering so we can attempt to provide appropriate accommodations.
Tech Requirements
To play this on-demand webinar you should use a browser with native HTML5 support. Please use the most up-to-date version available of Chrome, Safari, Firefox, Opera, or Edge. A fast Internet connection and computer is recommended.
Contact
This webinar is presented by the Public Library Association (PLA), a division of the American Library Association (ALA).
If you have questions or problems accessing a recording, send a message to plawebinars@ala.org or call 800-545-2433 ext. 5PLA (5752).