Advancing Access for Library Customers with Sensory Needs
***BEFORE YOU REGISTER FOR THIS ON-DEMAND WEBINAR PLEASE REVIEW IMPORTANT REGISTRATION INFORMATION BELOW***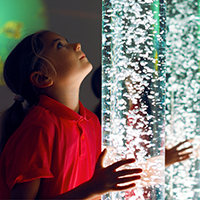 Are diversity and inclusion core values of your library? Are your services, resources, and programs developed through a lens of equity and access? One in six individuals has a sensory need in the United States today. These individuals represent all demographics and include those who experience autism, PTSD, dementia, ADHD, anxiety, Parkinson's, and more. Learn how to ensure that your library is a welcoming place for all customers with sensory needs.
The Akron-Summit County Public Library in Ohio and the Grapevine Public Library in Texas were among the first libraries to partner with KultureCity, an international nonprofit aimed to create acceptance and inclusion for those with sensory needs. This collaboration worked to make sensory inclusion a reality in the libraries' diverse facilities and communities through a scalable commitment of resources; all-staff expectations and professional development; and an unwavering commitment to providing a seamless library experience for all community members, one that is not limited by time or location.
Webinar participants will connect the experiences of two libraries, very different in size and community, and the work of a non-profit dedicated to sensory-inclusive community spaces, to their own library contexts; define challenges and opportunities in their own diversity and inclusion efforts; and determine next steps toward collaborative resource-building for sensory inclusion.
Originally presented September 7, 2022.
Learning Outcomes
At the conclusion of this on-demand webinar, participants will be able to:
Identify for colleagues, administrators, and community stakeholders the barriers to library participation experienced by customers with sensory needs;

Activate their understanding of the ways in which sensory inclusion can be scaled to libraries of varying sizes and community contexts; and

Craft first and next steps toward making their own libraries more inclusive through sensory-inclusive practices.
Who Should Attend
This on-demand webinar is intended for professional librarians, support staff, library administrators, community partners. Also library staff working with all age groups and in varied library types.
Panelists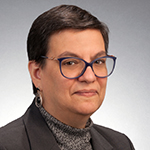 Barbara White
Barb White has served the Akron-Summit County Public Library (OH) and its customers of all ages for over thirty years. Prior to her role as deputy director, White served as neighborhood services manager, manager and early childhood librarian at a city branch, teen librarian at a suburban location, AV librarian at the main library, and as youth librarian on the bookmobile.
White currently serves on CA Head Start Policy Council, Summit Coalition for Community Health Improvement, and United Way's 211 Advisory Committee, and works collaboratively with social service and arts organizations throughout Summit County.
White has authored publications and several grant proposals related to youth services and professional development, and has presented nationally and internationally for both library and education organizations, including the International Learning Conference, Public Library Association, Ohio Library Council, Association for the Education of Young Children, Ohio Department of Education, USA Toy Library Association, and Association of Jewish Libraries.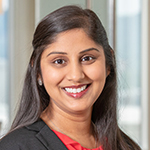 Uma Srivastava
Uma Srivastava was born and raised in Meridian, MS, moving to Birmingham in 2008 where she attended the University of Birmingham (UAB). She received her bachelor's degree in Biology, Chemistry, and Spanish in 2012; and a master's degree in Biotechnology in 2013. After that, Srivastava moved to Washington, DC to work at the National Institutes of Health for one year, then joined Pack Health. Srivastava started volunteering for KultureCity in 2015 and now operates as the COO. Since the program's inception, KultureCity has created over 650 sensory-inclusive venues in four countries. Through Srivastava's's leadership and dedication, KultureCity was named one of the World's Most Innovative Companies in 2019 and 2020 by FastCompany.
Aside from KultureCity, Srivastava is a member of the Rotary Club of Nashville, served as past president for the UAB School of Health Professionals Junior Board, and is a current board member of the FBI Citizens Alumni Academy Association. Srivastava was honored as Birmingham's "Rising Star of Healthcare" and "Servant Leader" by Vulcan Foundation, and has spoken at various conferences such as Collision, GuestX, and others.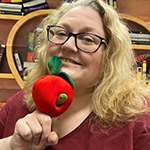 Leigh Kapsos
Leigh Kapsos has been a librarian at Grapevine (TX) Public Library for twenty-two years, serving as children's librarian, youth and outreach services supervisor, and now acting library director. In that time, she has spread her love of learning and literature far and wide through innovative, creative, and even secret outreach. She operates under the library philosophy of "something for everyone," and as such has dedicated much of her career to identifying and connecting with underserved populations, including those with special needs.
Kapsos is also an accomplished puppeteer, known by the handle "Junk Drawer Puppetry" on Tiktok and other media, and she integrates the known effectiveness of puppetry into outreach. She is a popular presenter at Texas Library Association conferences and is pleased to bring her message to an even wider audience through the Public Library Association.
Important Registration Information
Log into or create your ALA eLearning account
An ALA eLearning account is required to register. Don't have an account? Create one for free by going to the "Log in" menu located at the top right corner of your screen. No membership is required to create the account.
Redeem your signup code to complete your registration
Once you've registered for this on-demand webinar, a signup code will be added to your ALA eLearning account and emailed to you. Find the signup code on your signup code page, then redeem it on your account's dashboard to complete your enrollment in this on-demand webinar.
Review the ALA eLearning FAQ if you need more information.
Accommodations
This on-demand webinar is closed captioned in English (United States).
If you have a physical or communication need that may affect your access to this on-demand webinar, please contact us at plawebinars@ala.org or 800-545-2433 ext. 5PLA (5752) prior to registering so we can attempt to provide appropriate accommodations.
Tech Requirements
To play this on-demand webinar you should use a browser with native HTML5 support. Please use the most up-to-date version available of Chrome, Safari, Firefox, Opera, or Edge. A fast Internet connection and computer is recommended.
Contact
This webinar is presented by the Public Library Association (PLA), a division of the American Library Association (ALA).
If you have questions or problems accessing a recording, send a message to plawebinars@ala.org or call 800-545-2433 ext. 5PLA (5752).