Part Playground, Part Laboratory: Building New Ideas at Your Library
***BEFORE YOU REGISTER FOR THIS ON-DEMAND WEBINAR PLEASE REVIEW IMPORTANT REGISTRATION INFORMATION BELOW***
A PLA 2020 Virtual Conference On-Demand Session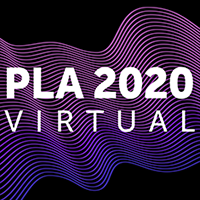 Do you thrive on change and want to pioneer bold new visions of what public libraries can be? Learn how to build a process for intentional innovation and experimentation at your library. Hear about how Arapahoe Libraries in Colorado designated their Castlewood branch as a place where library users and staff collaborate to experiment with new ways of using the public library. Whether the experiments succeed or fail, the goal is to evolve with your community.
Originally presented as part of the PLA 2020 Virtual Conference on February 27, 2020.
Learning Outcomes
At the conclusion of this on-demand webinar, participants will be able to:
Identify methods for obtaining and vetting ideas to apply to the concept approach;
Create a process and framework to pilot and implement new ideas at your library; and
Facilitate data-driven change through innovation and experimentation at your library.
Who Should Attend
This on-demand session is intended for those with no previous knowledge of the topic.
Panelists
Nicole Wilhelms, library manager, oversees two branches of Arapahoe Libraries in Colorado and aids in testing out innovative concepts that engage our community.
As the director of library operations, Linda Speas oversees the operation of eight library locations of Arapahoe Libraries, Mobile Library Services, Child and Family Library Services, and a centralized librarian team. Linda holds a Master of Library and Information Science from the University of Denver and Master of Science in Human Services from National Louis University.
Galina Derevyanko supervises Castlewood Library, the Concept branch of Arapahoe Libraries. Prior to that, she served in variety of management roles within profit and non-for-profit sectors in several countries, working in public libraries, museums, publishing houses, and software localizing business, always focusing on bringing innovation and latest trends to the organizations.
Important Registration Information
Log into or create your ALA eLearning account
An ALA eLearning account is required to register. Don't have an account? Create one for free by going to the "Log in" menu located at the top right corner of your screen. No membership is required to create the account.
Redeem your signup code to complete your registration
Once you've registered for this on-demand webinar, a signup code will be added to your ALA eLearning account and emailed to you. Find the signup code on your signup code page, then redeem it on your account's dashboard to complete your enrollment in this on-demand webinar.
Review the ALA eLearning FAQ if you need more information.
Accommodations
This on-demand webinar is closed captioned in English (United States).
If you have a physical or communication need that may affect your access to this on-demand webinar, please contact us at plawebinars@ala.org or 800-545-2433 ext. 5PLA (5752) prior to registering so we can attempt to provide appropriate accommodations.
Tech Requirements
To play this on-demand webinar you should use a browser with native HTML5 support. Please use the most up-to-date version available of Chrome, Safari, Firefox, Opera, or Edge. A fast Internet connection and computer is recommended.
Contact
This webinar is presented by the Public Library Association (PLA), a division of the American Library Association (ALA).
If you have questions or problems accessing a recording, send a message to plawebinars@ala.org or call 800-545-2433 ext. 5PLA (5752).