We're All Tech Librarians Now
***BEFORE YOU REGISTER FOR THIS ON-DEMAND WEBINAR PLEASE REVIEW IMPORTANT REGISTRATION INFORMATION BELOW***
A PLA 2020 Virtual Conference On-Demand Session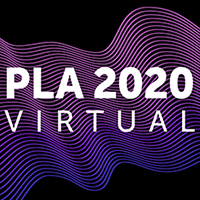 What's "the future of reference?" Whether it's renaming the department, ditching encyclopedias, or combining service desks, many libraries are asking this. In Brookline, Massachusetts, part of the answer has been building an increased understanding of technology and empowering staff members to take on troubleshooting themselves. The library's technology staff is freed up to tackle larger issues, other team members benefit from quicker solutions to problems, and patrons benefit from the skills and patience developed among staff.
Originally presented as part of the PLA 2020 Virtual Conference on February 28, 2020.
Learning Outcomes
At the conclusion of this on-demand webinar, participants will be able to:
Mobilize staff and leverage tools to develop technology skills in the reference department and beyond;
Use transferable skills to provide robust technology training for staff and programming/learning opportunities for patrons; and
Assess current staff and community technology needs and use these as a starting point for a culture of ongoing, evolving support.
Who Should Attend
This on-demand session is intended for those with no previous knowledge of the topic.
Panelists
Callan Bignoli is the director of the library at Olin College of Engineering in Needham, MA. She was previously the assistant director of a busy three-branch public library (Brookline, MA) and worked at the state library agency in Massachusetts (Massachusetts Board of Library Commissioners). Callan explores the intersections of digital and physical library user experience and strives to provide staff with the tools, training, and support they need to stay nimble and well-equipped.
Important Registration Information
Log into or create your ALA eLearning account
An ALA eLearning account is required to register. Don't have an account? Create one for free by going to the "Log in" menu located at the top right corner of your screen. No membership is required to create the account.
Redeem your signup code to complete your registration
Once you've registered for this on-demand webinar, a signup code will be added to your ALA eLearning account and emailed to you. Find the signup code on your signup code page, then redeem it on your account's dashboard to complete your enrollment in this on-demand webinar.
Review the ALA eLearning FAQ if you need more information.
Accommodations
This on-demand webinar is closed captioned in English (United States).
If you have a physical or communication need that may affect your access to this on-demand webinar, please contact us at plawebinars@ala.org or 800-545-2433 ext. 5PLA (5752) prior to registering so we can attempt to provide appropriate accommodations.
Tech Requirements
To play this on-demand webinar you should use a browser with native HTML5 support. Please use the most up-to-date version available of Chrome, Safari, Firefox, Opera, or Edge. A fast Internet connection and computer is recommended.
Contact
This webinar is presented by the Public Library Association (PLA), a division of the American Library Association (ALA).
If you have questions or problems accessing a recording, send a message to plawebinars@ala.org or call 800-545-2433 ext. 5PLA (5752).