Brave Voices, Brave Choices
***BEFORE YOU REGISTER FOR THIS ON-DEMAND WEBINAR PLEASE REVIEW IMPORTANT REGISTRATION INFORMATION BELOW***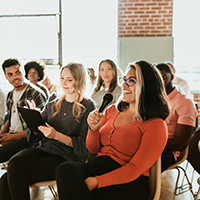 Brave Voices, Brave Choices (BVBC) is a public promise to learn, grow, and act on our collective commitment to move past anti-racism statements, engage residents and local systems, advance equity, and create the reality we want for all people. While Howard County in Maryland is acclaimed for its diversity, its Black residents increasingly have the worst outcomes across most self-sufficiency indicators, such as unemployment, poverty, and evictions. In this on-demand webinar, learn how the Howard County Library System provided the data-informed foundation needed to lead and drive change through their BVBC initiative.
BVBC features parallel tracks of internal and external racial equity work that includes leadership development, racial equity training, thought design led by subject matter experts, a racial equity alliance, story collection, and events for taking action on local equity issues. Since launching BVBC, more than 500 people have completed racial equity training, and residents have submitted more than 600 stories of racism and discrimination. Participants include elected and appointed leaders, library staff, community members, and leadership affiliated with the county's major systems and organizations. Demand continues to exceed capacity with more than ninety-eight percent of participants noting new knowledge for informed action.
Originally presented July 27, 2022.
Learning Outcomes
At the conclusion of this on-demand webinar, participants will be able to:
Engage all staff in beginning racial equity work;

Develop internal racial equity work models appropriate to libraries of any size; and

Build relationships with and engage community organizations and associations around racial equity work.
Who Should Attend
This on-demand webinar is intended for public library directors and administrators, community engagement staff, communications staff, and programming staff, who want to increase their understanding of the topic.
Panelists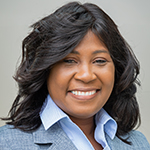 Tonya Aikens is president and CEO of Howard County Library System (HCLS), a nationally recognized Five Star Library. Tonya is keenly focused on building the collective leadership of the organization, its partners, the community and customers served to provide equitable, high-quality educational opportunities for all. She has directed library services for more than twenty years and is passionate about the ability of libraries to transform lives and communities. Tonya has served on numerous non-profit boards and currently serves on the Community Action Council of Howard County's Board of Directors, the Local Children's Board of Howard County, the Maryland Public Library Administrator's Intergovernmental Task Force, is an appointee of the Maryland State Librarian to the State Library Resource Center Oversight Commission, served on Howard County executive Calvin Ball's Transition Team and Spending Affordability Advisory Committee, and is a member of Howard County General Plan Update's Planning Advisory Committee.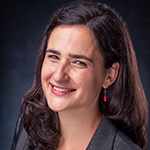 Katie DiSalvo-Thronson is the community education and engagement manager for HCLS. She brings more than a decade of experience in community organizing, community leadership development, and nonprofit outreach. Katie currently serves on Howard County's La Alianza Latina Workgroup and is an ex-officio member of the HCLS Racial Equity Alliance. She previously served as the community engagement officer for the Horizon Foundation, community organizer for Baltimoreans United in Leadership Development and People Acting Together in Howard, Public Policy Fellow for the Skillman Foundation, among other positions. She speaks Spanish and holds a bachelor's degree in comparative religion from Harvard and a master's degree in public affairs from Princeton, with a certificate in state and local policy.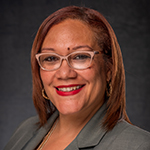 Brooke McCauley serves as the customer experience manager for HCLS. As part of the leadership team, she collaborates interdepartmentally and with community partners to provide greater access to library resources and provide exemplary customer experiences. Born and raised in Detroit, she is a humanitarian with more than twenty-five years of experience in the non-profit, advocacy, and political sectors. She currently serves as the president of the board of the Howard County Association for Community Services, NAACP state chair for Women in NAACP, and as a big sister with Big Brothers Big Sisters of America. A graduate of One Spirit Interfaith Seminary, and with a bachelor's degree in journalism and public relations from Wayne State University, she also attended Hampton University.
Important Registration Information
Log into or create your ALA eLearning account
An ALA eLearning account is required to register. Don't have an account? Create one for free by going to the "Log in" menu located at the top right corner of your screen. No membership is required to create the account.
Redeem your signup code to complete your registration
Once you've registered for this on-demand webinar, a signup code will be added to your ALA eLearning account and emailed to you. Find the signup code on your signup code page, then redeem it on your account's dashboard to complete your enrollment in this on-demand webinar.
Review the ALA eLearning FAQ if you need more information.
Accommodations
This on-demand webinar is closed captioned in English (United States).
If you have a physical or communication need that may affect your access to this on-demand webinar, please contact us at plawebinars@ala.org or 800-545-2433 ext. 5PLA (5752) prior to registering so we can attempt to provide appropriate accommodations.
Tech Requirements
To play this on-demand webinar you should use a browser with native HTML5 support. Please use the most up-to-date version available of Chrome, Safari, Firefox, Opera, or Edge. A fast Internet connection and computer is recommended.
Contact
This webinar is presented by the Public Library Association (PLA), a division of the American Library Association (ALA).
If you have questions or problems accessing a recording, send a message to plawebinars@ala.org or call 800-545-2433 ext. 5PLA (5752).