Providing Immigration Help with Community Partnerships
***BEFORE YOU REGISTER FOR THIS ON-DEMAND WEBINAR PLEASE REVIEW IMPORTANT REGISTRATION INFORMATION BELOW***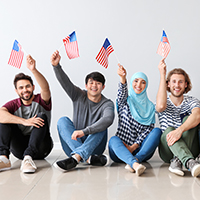 Would you like to provide immigration services at your library, but continually run up against barriers? Staffing limitations, insufficient funding, legal concerns, and in some cases anti-immigrant sentiment, can make immigration services in the library seem daunting. By leveraging community partnerships, you may be able to meet the needs of immigrant populations while simultaneously advocating for your library.
The Fox River Valley Public Library District serves 70,000 residents in the Northwest Suburbs of Chicago. The largest town in the library's service area has a history of antagonism toward immigrant populations, and successfully passed an "English-only" resolution in 2007, intended to shame and intimidate Spanish-speaking populations. In response, the library partnered with local organizations to initiate ongoing immigration help drop-in programs, monthly citizenship and Deferred Action for Childhood Arrivals (DACA) renewal workshops, and other naturalization services. In this on-demand webinar, librarian Jason Katsion will share tools and tips for assessing the needs of your community and forging community partnerships to meet those needs.
Learning Outcomes
At the conclusion of this on-demand webinar, participants will be able to:
Assess the immigration needs of their communities;
Target community partners who can assist in meeting immigration needs; and
Develop immigration help programming that maximizes the impact for library patrons.
Who Should Attend
This on-demand webinar is intended for all public library staff, including those with no previous knowledge of the topic.
Panelist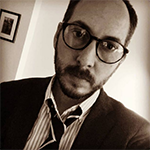 Jason Katsion is public services manager for the Fox River Valley Public Library District in Illinois. He has over twenty years of library experience, having worked in circulation, IT, and reference services. Current focus areas include: auditing library collections for equity, diversity, and inclusion; hosting community-led discussions of social justice issues; and providing relevant and reliable health information to the public.
Important Registration Information
Log into or create your ALA eLearning account
An ALA eLearning account is required to register. Don't have an account? Create one for free by going to the "Log in" menu located at the top right corner of your screen. No membership is required to create the account.
Redeem your signup code to complete your registration
Once you've registered for this on-demand webinar, a signup code will be added to your ALA eLearning account and emailed to you. Find the signup code on your signup code page, then redeem it on your account's dashboard to complete your enrollment in this on-demand webinar.
Review the ALA eLearning FAQ if you need more information.
Accommodations
This on-demand webinar is closed captioned in English (United States).
If you have a physical or communication need that may affect your access to this on-demand webinar, please contact us at plawebinars@ala.org or 800-545-2433 ext. 5PLA (5752) prior to registering so we can attempt to provide appropriate accommodations.
Tech Requirements
To play this on-demand webinar you should use a browser with native HTML5 support. Please use the most up-to-date version available of Chrome, Safari, Firefox, Opera, or Edge. A fast Internet connection and computer is recommended.
Contact
This webinar is presented by the Public Library Association (PLA), a division of the American Library Association (ALA).
If you have questions or problems accessing a recording, send a message to plawebinars@ala.org or call 800-545-2433 ext. 5PLA (5752).