Providing Immigration Help with Community Partnerships
***BEFORE YOU REGISTER FOR THIS ON-DEMAND WEBINAR PLEASE REVIEW IMPORTANT REGISTRATION INFORMATION BELOW***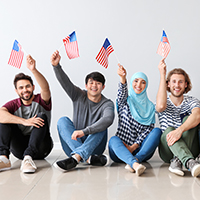 Would you like to provide immigration services at your library, but continually run up against barriers? Staffing limitations, insufficient funding, legal concerns, and in some cases anti-immigrant sentiment, can make immigration services in the library seem daunting. By leveraging community partnerships, you may be able to meet the needs of immigrant populations while simultaneously advocating for your library.
The Fox River Valley Public Library District serves 70,000 residents in the Northwest Suburbs of Chicago. The largest town in the library's service area has a history of antagonism toward immigrant populations, and successfully passed an "English-only" resolution in 2007, intended to shame and intimidate Spanish-speaking populations. In response, the library partnered with local organizations to initiate ongoing immigration help drop-in programs, monthly citizenship and Deferred Action for Childhood Arrivals (DACA) renewal workshops, and other naturalization services. In this on-demand webinar, librarian Jason Katsion will share tools and tips for assessing the needs of your community and forging community partnerships to meet those needs.
Learning Outcomes
At the conclusion of this on-demand webinar, participants will be able to:
Assess the immigration needs of their communities;
Target community partners who can assist in meeting immigration needs; and
Develop immigration help programming that maximizes the impact for library patrons.
Who Should Attend
This on-demand webinar is intended for all public library staff, including those with no previous knowledge of the topic.
Panelist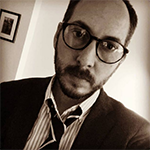 Jason Katsion is public services manager for the Fox River Valley Public Library District in Illinois. He has over twenty years of library experience, having worked in circulation, IT, and reference services. Current focus areas include: auditing library collections for equity, diversity, and inclusion; hosting community-led discussions of social justice issues; and providing relevant and reliable health information to the public.
Important Registration Information
Please review this important information before registering for this on-demand webinar.
An ALA eLearning account is required to register. If you do not have an ALA eLearning account, then you can create an account from the login screen (see "Log in" link above in upper right corner). Scroll down below the "Login" button on the login screen and click the second bullet point: "Don't yet have an ALA account? Make one!" No membership is required to create the account.
When you purchase registration for this on-demand webinar, a signup code for it is added to your ALA eLearning account. Retrieve your purchased signup code by clicking your name in the upper right corner to drop down your ALA eLearning account menu, then select "Signup Codes" in that menu. You should also receive an email with a link to view your purchased signup code. Redeem the signup code on your ALA eLearning dashboard to complete your enrollment in this event.
You must redeem your signup code to participate in this on-demand webinar.
You can purchase registration on behalf of your colleagues. Simply give them the signup code for the event they need to access to, and they can redeem it in their own ALA eLearning account; the account that made the purchase and the account that is enrolling in the event do not need to be the same. Each signup code is valid for one registration.
You can also register a group for this on-demand webinar by specifying the number of people who will be accessing the event during checkout. Groups of 3–6 registrants receive a 30% discount; groups of 7–12 registrants receive a 35% discount; groups of 13–19 registrants receive a 40% discount. To register 20 or more individuals for a webinar, please contact ce@ala.org.
Register with Purchase Order
To register yourself, colleagues, or a group for this on-demand webinar with a purchase order, the purchaser needs to have an ALA eLearning account. If the purchaser does not have an ALA eLearning account, then see the instructions above about how to create one.
If the purchaser already has an ALA eLearning account, then email the purchase order request to ALA's Member Relations & Services (MRS) team at registration@ala.org. MRS staff will reach out to the purchaser and assist with making the purchase. MRS staff will include all requisite remittance instructions when processing the purchase order.
Once the order has been entered, the purchaser will receive a confirmation email containing the webinar signup code(s) as indicated in the order. The purchaser must give the signup code(s) to the intended enrollee(s), who will each need to login to their own ALA account and redeem the signup code in their own ALA eLearning dashboard to complete their enrollment.
Review the ALA eLearning FAQ if you need more information.
Accommodations
This on-demand webinar is closed captioned in English (United States).
Tech Requirements
To play this on-demand webinar you should use a browser with native HTML5 support. Please use the most up-to-date version available of Chrome, Safari, Firefox, Opera, or Edge. A fast Internet connection and computer is recommended.
Contact
This webinar is presented by the Public Library Association (PLA), a division of the American Library Association (ALA).
If you have questions or problems accessing a recording, send a message to plawebinars@ala.org or call 800-545-2433 ext. 5PLA (5752).